SAIKOU MICHI LATEST NEWS!
&nbsp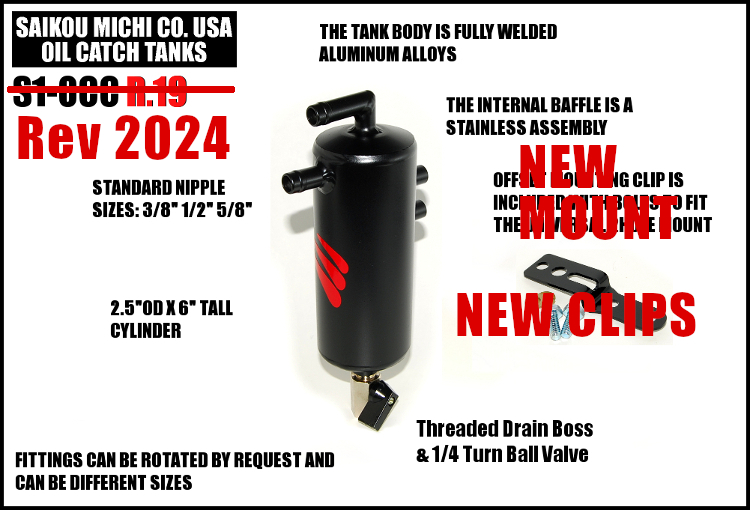 2021 UPDATES STARTING BEHIND THE SCENES!
New mounting system on OCCs. Better machined drain threads. Nicer default paint finish. Upgraded Ball Valve Drains as the default!!!
Updates are being incorporated into all of our OCC products starting NOW!
&nbsp
SAIKOU TANK SALE GOING ON NOW JUST ASK!!!
&nbsp

&nbsp
2021 is continuing with new designs. Some accessories got some updated touches, but so far they have been doing really well as is. Drain Extensions have been super popular! The 1/4 Turn Valve also has had an amazing response!
&nbsp
&nbsp
The year is looking GREAT! Our SUMMER SALES got a lot of attention! With tons of new customers.
Thanks again to everybody for supporting our custom products! We'll do our best to keep things moving along!
As always, if you have concerns regarding your order, send us an e-mail, we always do the best we can to help with your schedule. We do try to prioritize by the Queue number.
&nbsp
Current Lead Time Notes Updated 2021


LEAD TIME REPORT calculates shop backlog at 3~4 weeks average (Good for Summer And Fall). Some jobs will take less, some will take more depending on the quantity and how custom the design is. Promo Offers will have an effect and we'll try and calculate the shop load the best we can!
&nbsp
Website Update In Progress
Keep checking for new pages. Hit refresh when you visit, some pages are getting updates all the time. Most recent updates:
S1 type Dual OCC for S2000s. S3 type Vent to Atmosphere OCC (Breather)
&nbsp
Click to return to the Home Page

DISCLAIMER:
All our products are simple filters and are not intended to modify the PCV system, this does not mean that local authorities will understand this. You are responsible for upholding local statues and keeping your vehicle legal. This product may be considered for "Offroad Use Only", please check your local statutes.
WARNING:
Working on any vehicle may be hazardous and result in injury. These products must be installed by a qualified technician. You must be qualified or seek the help of a professional mechanic. If you are not sure about how to connect this filter, have a professional mechanic perform the installation. Keep all hoses away from hot surfaces, if you are not sure of the routing, have a professional mechanic perform the installation. You are responsible for the safe and proper installation of this filter product.